The Yamaha RUio16-D is a new device from Yamaha that is a Dante audio interface. Not only that, but it serves as a bridge between Dante, analog, and USB signals.
This is honestly one of my new favorite additions to my kit. It features a Primary and Secondary Dante port, which can either be used in a redundant or a switched mode and it can interface 16 channels of Dante to the USB-C connection on the back of the RUio16-D. Hook the other side of the USB-C cable into your computer and you now have a redundant connection for QLab or music playback. It also has two XLR inputs that have phantom power and pad switches available, as well as two XLR outputs.
The Yamaha RUio16-D has become my new interface for system tuning using Rational Acoustics Smaart and it works really well.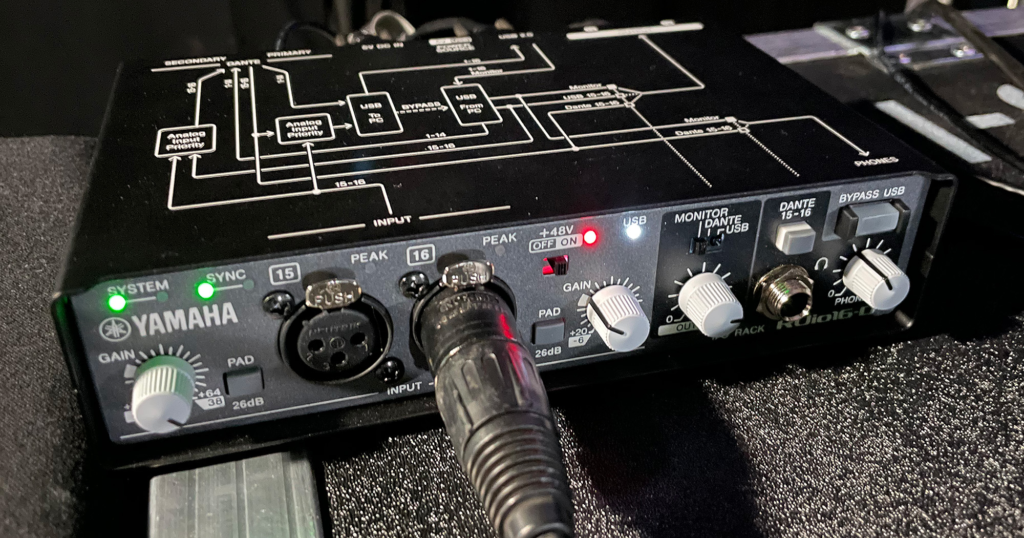 A2 Uses for the Yamaha RUio16-D
For an A2, my favorite thing to use the Yamaha RUio16-D for is monitoring wireless that is on the Dante network. When I go to mic up talent, I will solo up the microphone inside of Yamaha VST Rack (which comes bundled with the RUio16-D). After the talent is mic'ed up, I will give a listen in and make sure there are not any apparent issues.
The corporate gigs I work will typically have Shure Axient or Shure ULXD both of which have Dante available on the receivers in the Dual and Quad channel boxes. But only the Axient has a headphone jack for monitoring the receivers.
I travel with an wireless IEM pack and my IEM's, so it is easy for me to mic the talent while listening to the channel soloed on VST Rack.
Dante Patching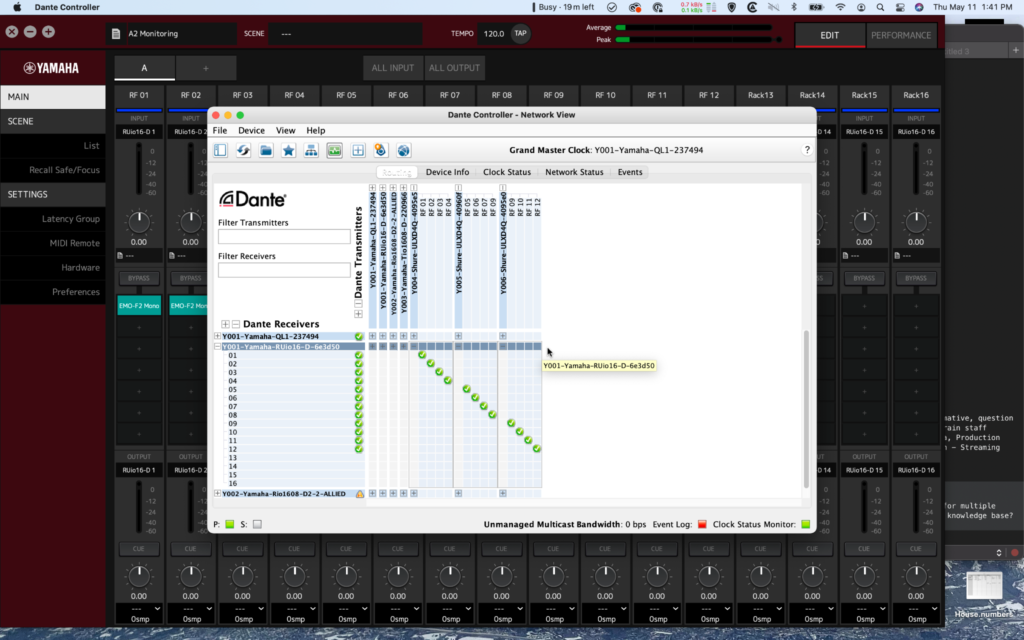 Simply open up Dante Controller, and patch the RF to the Yamaha RUio16-D. As we can see in the image above, I have 12 channels of wireless that I am keeping track of.
Yamaha VST Rack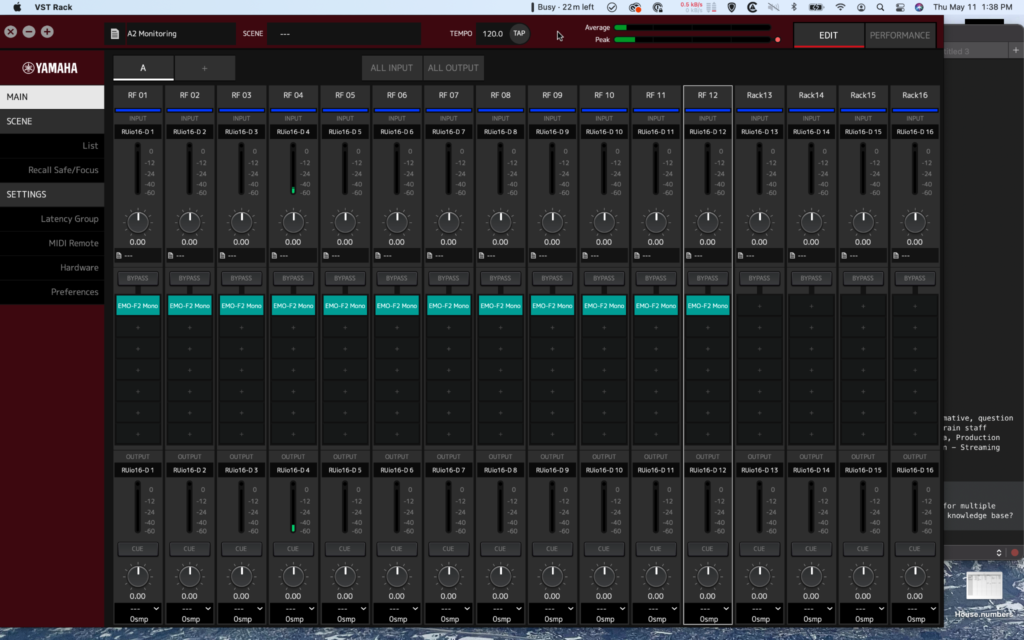 As I was saying earlier, Yamaha VST Rack is included with the purchase of the Yamaha RUio16-D, and this program is mainly used for applying VST Plugins to the 16×16 Dante interface. Meaning you can insert any VST plugin on a Dante channel coming into the device, and then output the processed channel back out to the Dante network. (I'll have some videos and blog posts about this soon!)
For an A2, the VST Rack is perfect as you can press the CUE button on any channel and it will solo that channel into the headphone jack or the XLR outputs on the back of the RUio16-D if desired.
On every input I will add the Waves EMO-F2 for a high-pass filter so I hear more what the FOH engineer is going to be getting.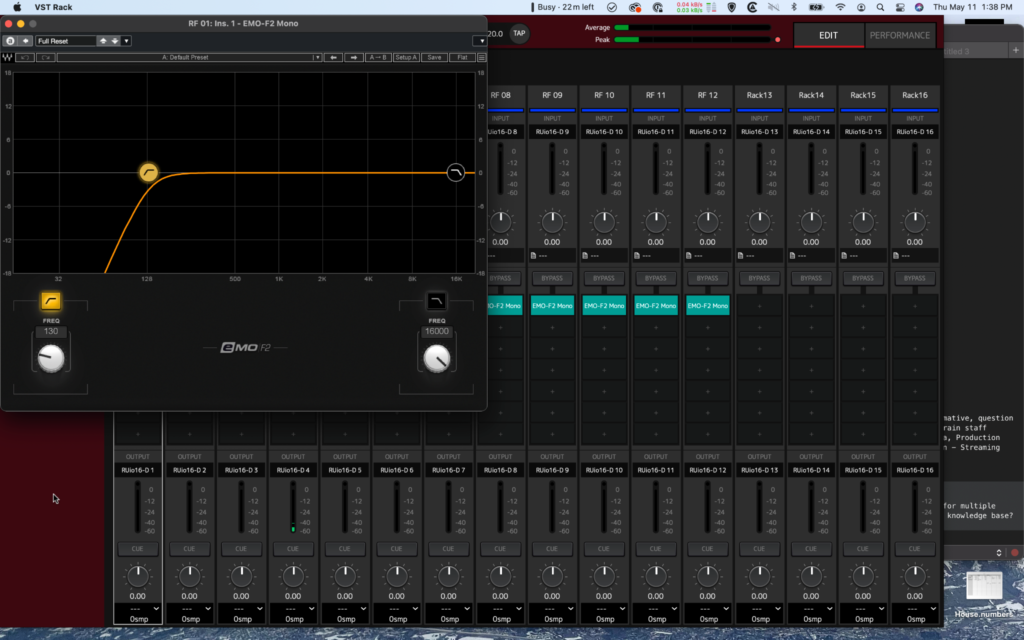 Yamaha RUio16-D Latency
The Yamaha RUio16-D uses your computer's processor for applying the VST plugins, so it does have a buffer setting and uses your CPU. When I'm running this, I will typically leave this at 128 for the buffer size. Because this was being used with a Yamaha QL1 at FOH, the sample rate was set to 48 kHz, however the device does work at 96 kHz!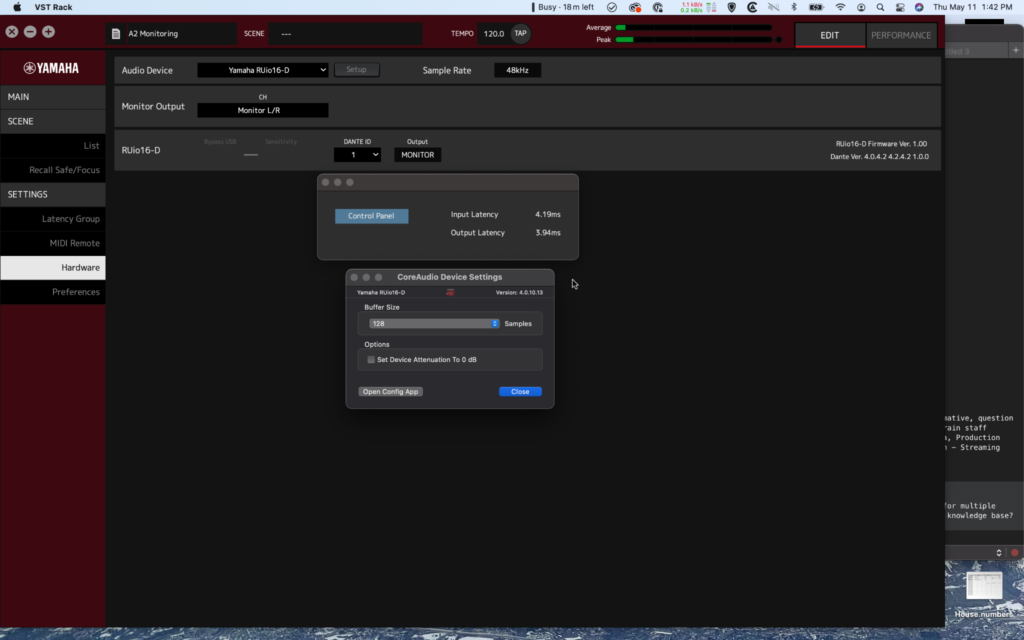 As seen in the image above, the overall latency is negligible even with a buffer of 128.
Conclusion
The Yamaha RUio16-D is a very flexible device that I now consider a must-have in my audio kit. If I'm working as an A1 or an A2, I'm finding that I'm always pulling this thing out. Over the next few months, I'll continue to show how I am utilizing this in my audio kit!
Check out the Yamaha RUio16-D at Sweetwater!