Online CHURCH SOUND SYSTEM COACHING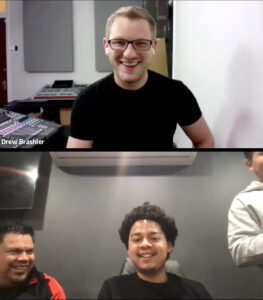 Why Schedule Online Coaching for Church Audio Systems & Troubleshooting?
I understand the challenges that come with striving for exceptional sound quality while maintaining the spiritual atmosphere of your worship services.
Whether you're just starting or you're an experienced sound technician looking to refine your skills, I'm here to help.
Online sessions provide the flexibility to access my guidance and support while sitting in front of your own equipment and work in real time.
What Can You Expect From Online Sessions?
Personalized Training: During our sessions, we'll address your unique challenges, goals, and aspirations for your church's sound system. 
Comprehensive Troubleshooting: I can help you diagnose and troubleshoot problems effectively. We'll find solutions to optimize your sound quality.
Efficient Setup Assistance: If you're setting up a new audio system, I'll guide you through the process step by step, ensuring everything is correctly configured for your worship services.
Skill Enhancement: Beyond immediate problem-solving, we can work on the knowledge and skills related to Routing, Gate, EQ, Dynamics, Matrix Section, Mixing, etc.
To get started, choose a date below to schedule a coaching call with me. Let's work together to make your church's sound system a true asset in creating a spiritual connection for your congregation.
Online Coaching Sessions are Booked at $267 for 90 Minutes.
Some topics you might want to discuss in this church sound system coaching session could include:
1:1 Mixing techniques & training

Audio System Setup

Wireless RF Coordination

Microphone techniques

Troubleshooting a pressing issue
If you're looking for training for your entire team, or need more in-depth help on your church audio system setup, I also book limited fly dates to come to your church for on-site training and optimization. Learn more and inquire here!